Goddesses' Day, Dating with Thanksgiving
"Goddess" is a beautiful word beyond words. They are fascinating miracles well-bred by the creator full of graceful and elegant charm. They make life fragment and warm, and turn the world to be colorful. As Bingxin(XieWanying, a prolific and famous Chinese writer) once said:" if there is no woman in the world, it will lose at least five tenths of the truth, six tenths of the goodness and seven tenths of the beauty. As flowers blooming with the spring wind, we are glad to celebrate the goddesses' Day.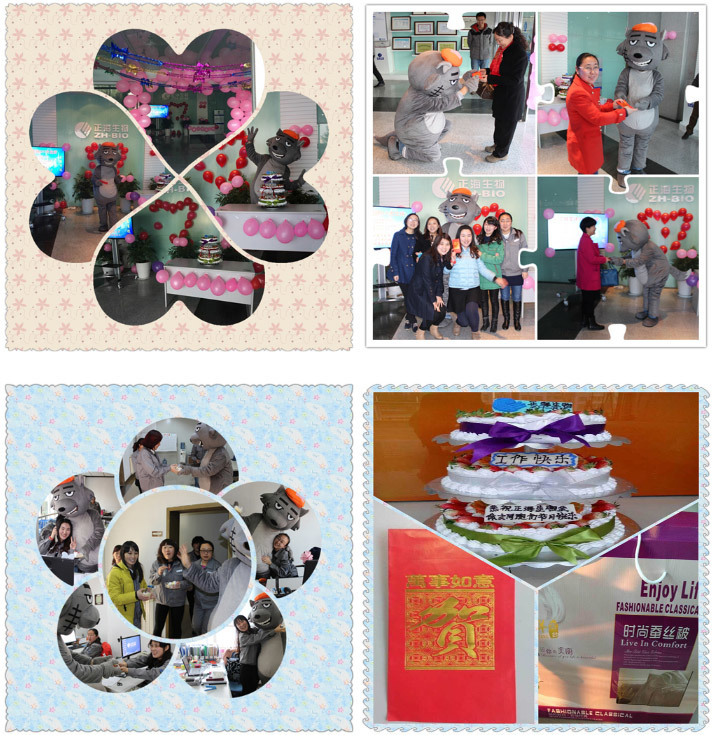 Moral education began with and focused on the culture of thanksgiving, which is just the heart and highlight of our corporate culture. As the Goddesses' Day was approaching, we were well prepared to serve our female compatriots up some surprises and to express our deep gratitude for them.
Surprise I: "BIO" sends you packets with money and sweet cakes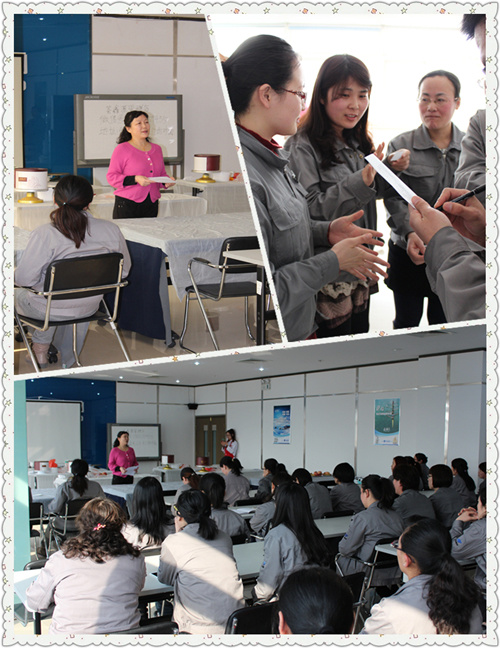 When you stepped into the warm and romantic lobby of our company, BIO, a mascot of Grey Wolf who loves his wife deeply offered every goddess a red packet with money, a piece of cake and warm blessings with one knee bended.
Surprise II :" Caring for Women's Health, Dancing to celebrate a beautiful life'. A female dance team was built:
To help more women to keep fit, our Deputy General Manger Mrs. Lin took the lead to build a dance team, which got a favorite reception by all the goddesses.
Surprise III: DIY Cake making competition for "Celebrating the Women's Day, Expressing Thanksgiving"
The goddess' hands can not only make outstanding contribution to the company but make a great taste of their DIY cakes.
Thanksgiving originates from feelings in the heart. The originality decoration to the cakes reflects the ingenuity, intelligence and wisdom of the goddesses in ZH-BIO. And they expressed their deep love for the company with their grateful heart and hard-working hands.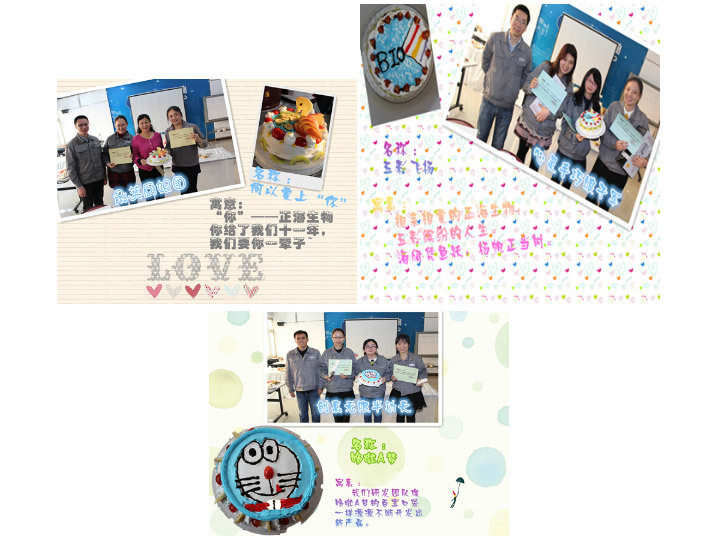 Previous post:Innovation, Reform, Improvement, Transcendence" ZH-BIO Annual Meeting of 2014 Grandly Opened
Next post:ZH-BIO Helped the Left behind Children in Fenghuang with Warm Hearts and Loves
Address: No. 7 Nanjing Street, Yantai Economic & Technological Development Area
Contact No:400-688-6808
Fax:0535-6931900
Email: zhenghaishengwu@zhbio.com
---
Copyright © 2022 Yantai Zhenghai Bio-Tech Co., Ltd. All rights reserved 鲁ICP备11012157号-1