Congratulations to Zhenghai Bio-tech on winning the Enterprise Technology Innovation Award of Shandong Province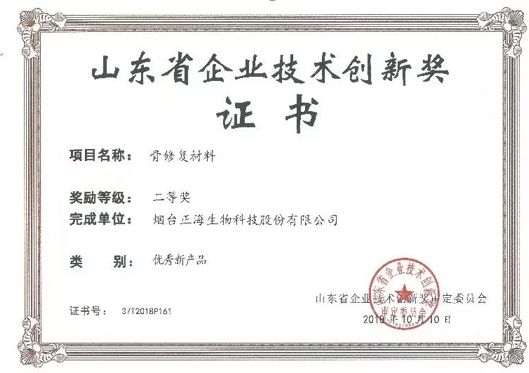 Recently, under the guidance of the Department of Industry and Information Technology of Shandong Province, the results of "excellent achievements, new products and papers of enterprise technological innovation in Shandong Province in 2018" have been revealed by Shandong Enterprise Technology Innovation Promotion Association, Shandong Enterprise Technology Progress Promotion Center, Shandong SME Development Promotion Center and Shandong Industry-University-Research Cooperation Promotion Association. The "Bone Repair Material" of Zhenghai Bio-tech was awarded with the Second Prize for Excellent New Products.
Since its establishment, Zhenghai Bio-tech has been attaching importance to technological innovation. It has built high-tech regenerative medical material R&D platforms, such as Shandong Medical Regenerative Repair Materials Engineering Technology Research Center, Shandong Enterprise Technology Center, and Shandong Bio-regeneration Materials Engineering Laboratory. It has undertaken more than 60 scientific and technological development projects at the national, provincial and municipal levels such as the participation in the National Key R&D Plan, and has applied for over 60 international and domestic patents.
This award recognizes the achievements of Zhenghai Bio-tech in promoting technological innovation and development, technological progress and management of enterprise technological innovation. Zhenghai Bio-tech will further increase the investment in R&D, improve its independent innovation capability, train a highly skilled R&D team, and optimize the product structure, so as to better consolidate and enhance the competitive advantage, make innovations in new products and develop new advantages.
Address: No. 7 Nanjing Street, Yantai Economic & Technological Development Area
Contact No:400-688-6808
Fax:0535-6931900
Email: zhenghaishengwu@zhbio.com
---
Copyright © 2022 Yantai Zhenghai Bio-Tech Co., Ltd. All rights reserved 鲁ICP备11012157号-1