Lotus Just Buds - Zhenghai Bio-tech Won the IPO Rising Star Award for Chinese Listed Company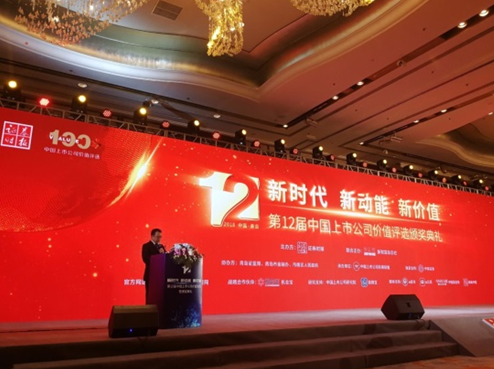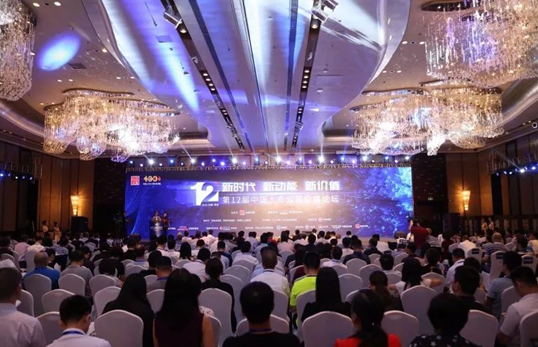 On August 12, the "New Era · New Momentum · New Value - the 12th Chinese Listed Companies Value Forum & Award Ceremony" hosted by Securities Times was ceremoniously held in Qingdao, and attended by over 500 economists, industry professionals, analysts, representatives of outstanding listed companies and so on from related ministries & commissions, supervision units, securities company's research institutes, listed companies and in other fields. At the ceremony, lists were unveiled for various awards of the "12th Chinese Listed Companies Value Selection". Thanks to its remarkable comprehensive strength, Zhenghai Bio-tech won the "IPO Rising Star Award for Chinese Listed Company", and Lu Meijiao the Secretary of Board of Directors won the "Award for Excellent Secretary of Board of Directors Making Contributions to IPO Operations of Chinese Listed Company".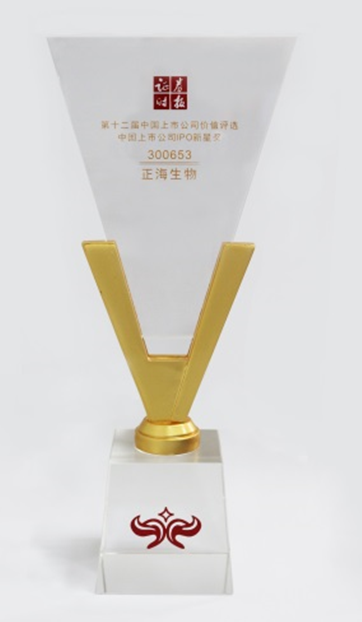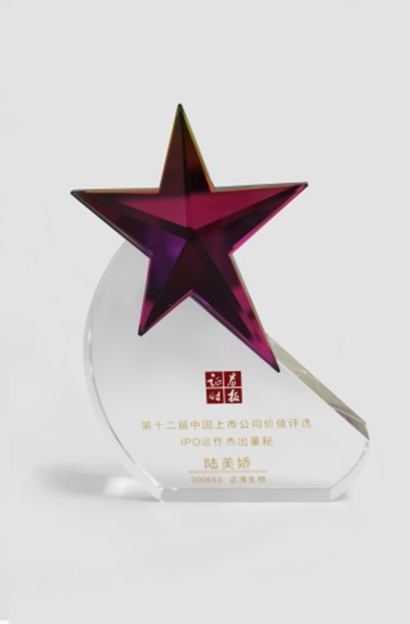 Since 2007, the "Chinese Listed Companies Value Selection" has been successfully held for 12 generations. All the listed companies selected are excellent in profitability, growth potential, investment income and market & brand influence; companies on the list are highly typical in aspects of strategy transformation and industry upgrading regarding China's economy. The "IPO Rising Star Award for Chinese Listed Company" has been added in the Value Selection this year, aiming to dig the investment values of new listed enterprises. This honor has been won by 30 enterprises in total.
Keeping a foothold in regenerative medicine and focusing on sci-tech innovation, Zhenghai Bio-tech has established high-standard R&D platforms (e.g. Shandong Medical Regenerative & Repair Materials Engineering Technology Research Center, Shandong Enterprise Technology Center, Shandong Bio-regeneration Material Engineering Laboratory, etc.) and successively undertook over 50 sci-tech development projects of the National "863" Plan, National Torch Plan and National Key R&D Plan. In recent years, Zhenghai Bio-tech has also won the honors of China Patent Excellence Award, Enterprise with Superiority in Intellectual Properties Nationwide, and the second place (bio-medicine field) of China Innovation & Entrepreneurship Competition in succession.
Since its successful listing on the GEM on May 16, 2017, the company has stuck to its belief of "creating value and shouldering responsibility" to embrace the capital market, paid numerous investors back with satisfactory business performances and actively fulfilled its social responsibilities; while adhering to its vision of "take the lead in the regenerative medicine field", the company has made constant endeavors to improve people's living quality, boost social medical care, and advance innovative development of bio-medicine industry.
This honor is a positive affirmation given by the capital market to Zhenghai Bio-tech for its excellence in financial performance, governance level, managing team and brand strategy, highlighting the company's comprehensive competitiveness and investment value. In the future, the company will continue in-depth digging in its main business and ceaselessly improve its value-creation ability to add new momentum to economic development in the new era.
Address: No. 7 Nanjing Street, Yantai Economic & Technological Development Area
Contact No:400-688-6808
Fax:0535-6931900
Email: zhenghaishengwu@zhbio.com
---
Copyright © 2022 Yantai Zhenghai Bio-Tech Co., Ltd. All rights reserved 鲁ICP备11012157号-1