Congratulations to Our Company for Being Selected as the Model Enterprise Implementing Medical Device Production Quality Managem
On April 3, Shandong Provincial Food and Drug Administration released the "Announcement of the List of Province-wide Model Enterprises Implementing Medical Device Codes in 2017", and Zhenghai Bio-tech was selected as the "Model Enterprise Implementing Medical Device Production Quality Management Code". 8 medical device manufacturers and 2 medical device distributors were selected in total throughout the province. Our company's winning of this honor is attributed to the solidarity and joint efforts of all employees, and embodies the affirmation for our company's ceaseless perfecting of quality management system for years, as well as its long-term improvement of product quality and customer satisfaction.
High quality establishes a brand, and superior property sets up a benchmark. In the future, we will make persistent efforts to continuously improve the quality management level and raise the comprehensive innovation ability for product R&D, thus to produce more superior-quality products with better effects and higher safety and to make greater contributions to the regenerative medicine!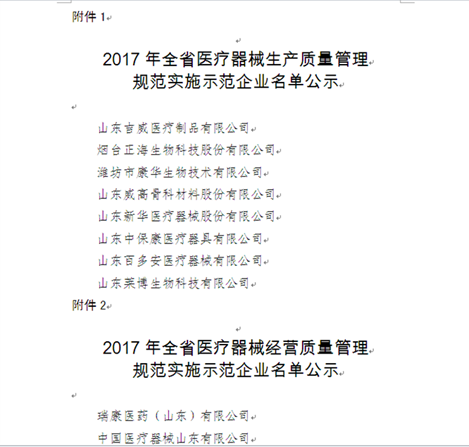 Address: No. 7 Nanjing Street, Yantai Economic & Technological Development Area
Contact No:400-688-6808
Fax:0535-6931900
Email: zhenghaishengwu@zhbio.com
---
Copyright © 2022 Yantai Zhenghai Bio-Tech Co., Ltd. All rights reserved 鲁ICP备11012157号-1